Biomass electricity – a useful renewable energy source
31.05.2022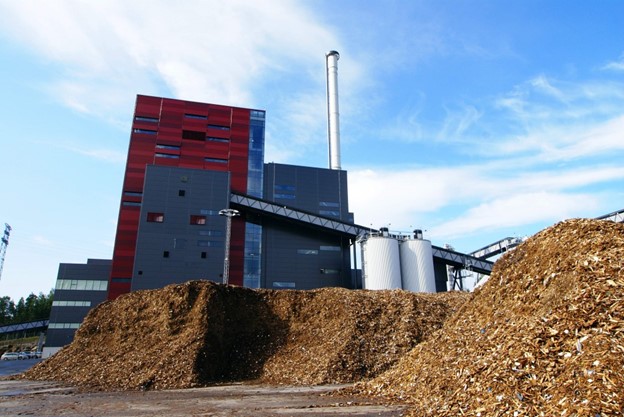 Biomass electricity – a useful renewable energy source
Biomass power is the use of biomass to produce electricity. This is a form of renewable energy and has a large reserve, so many countries are interested in investing.
Biomass electricity in the world.
In nature, biomass includes trees, industrial crops, algae and other plants, or agricultural and forestry residues (straw, bagasse, husks, corn fibers, dried leaves, wood chips) etc.), wastepaper, methane from landfills, wastewater treatment plants, manure from livestock and poultry farms…
On a global scale, biomass is the fourth largest source of energy, accounting for about 14-15% of the world's total energy consumption.
The United States is the world's largest producer of biomass electricity, with more than 350 biopower plants, producing over 7,500 MW of electricity per year. These plants use waste from paper mills, sawmills, agricultural by-products, twigs from orchards, etc. Biomass accounts for 4% of all energy consumed in the US and 45% renewable energy.
In Japan, the government has issued the Biomass Energy Strategy since 2003 and is currently actively implementing the Biomass Town Development Project. By early 2011, Japan had 286 biomass towns spread across the country. In Korea, bioenergy is being actively researched and developed with the goal that by 2030 renewable energy will reach 11%, of which energy from biomass will reach 7.12%. China already has a Renewable Energy Law and more than 80 power plants produced from biomass with a capacity of up to 50 MW/plant. The potential is that 30 GW of electricity can be achieved from this type of energy.
Potential of biomass electricity in Vietnam.
According to data from the Ministry of Industry and Trade, energy demand in Vietnam is now growing at twice the rate of GDP growth. Meanwhile, in developed countries, this ratio is only approximately 1. Vietnam's energy consumption is increasing and has increased more than 4 times from 2005 to 2030, electricity consumption increased by nearly 400% within 10 years from 1998 to 2008.
In the context of increasingly depleted fossil fuels, rising world oil prices and increasing dependence on world energy prices, it is increasingly difficult to meet enough energy for domestic demand. The consideration of exploiting clean renewable energy sources is very important in terms of economy, society and sustainable development.
Vietnam is a country with great potential for biomass energy from agricultural waste, garbage, urban wastewater, etc., widely distributed across the country, in which, some forms of biomass can produce electricity. or apply energy cogeneration technology (producing both electricity and heat). This huge amount of biomass, if not treated, will be a large and continuously generated source of pollution, causing serious effects on ecosystems (soil, water and air) as well as human health. .
Every year, in Vietnam, there are nearly 60 million tons of biomass from agricultural waste, of which 40% is used to meet energy needs for households and generate electricity. According to calculated data, every 5 kg of rice husk generates 1kWh of electricity, so with millions of tons of rice husks, Vietnam can get hundreds of MW of electricity each year. Agricultural residues are abundant in the Mekong Delta, accounting for about 50% of the total national agricultural waste production, and the Red River Delta region with 15% of the total national output.
Currently, Vietnam has a number of bioelectric power plant construction projects being implemented such as: In the North, Biomass bioelectric power plant construction project in Green Forest area, Phong Chau town, Phu district Ninh, Phu Tho province has been granted an investment certificate with a total investment of 1,160 billion VND, with a capacity of 40 MW, expected to be completed and put into operation in 2013 with an output of 331.5 million kWh. /five.
In the South, Doosan Group (Korea) has prepared procedures to invest in the construction of a biomass thermal power plant (biomass) in Minh Hung industrial park – Korea (Chon Thanh district, Binh Phuoc province). Design capacity 19 MW, steam supply 70m3/hour. The raw materials supplied to the factory operate mainly from plants in the agro-forestry industry. The group will complete the legal procedures and the project can be completed in 2015.
In addition, the rice husk-fired thermal power plant in Tra Noc 2 Industrial Park (Can Tho City) invested by Dinh Hai Thermal Power Joint Stock Company, has been completed and put into operation phase 1 with a capacity of 20 tons of steam/hour . The plant has a generating capacity of 2 MW when operating in a non-steam production mode. Phase 2 of the project will invest in a 3.7 MW turbine to supply electricity to the national grid.
Vietnam has great potential to develop biomass electricity both now and in the future. However, the number of renewable energy projects that have come into operation so far is still too small and only a few projects are grid-connected biomass power, the investment is spontaneous, lacks general planning. possible and not commensurate with the existing potential of the country.