Increase in Demand for Renewable Energy across Globe: Key Driver of Wood Pellets Market
24.05.2022
Increase in Demand for Renewable Energy across Globe: Key Driver of Wood Pellets Market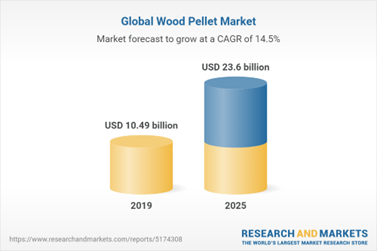 According to the International Energy Agency, in December 2020, global carbon emissions were 2%, or 60million tons higher than they were in the same month a year earlier. More carbon emission leads to negative effects such as heat trapping, rise in maximum temperature, rise in minimum temperature, etc., which are responsible for global warming.
Carbon emission rate should be on the lower side in order to curb the harmful effects of global warming, and this can be achieved by introducing energy sources that are carbon-free. Thus, renewable energy sources come into the picture, and clean energy can be produced by using renewable energy sources.
Renewable energy is a prominent alternative to conventional energy (which is generated from fossil fuel), and several nations have imposed stringent rules to lower the use of fossil fuels and reduce the carbon footprint. Thus, a surge in the demand for renewable energy sources fueled renewable power generation by an approximately 4%in 2019, which was the highest over the past five years. Production of renewable electricity stood at 2537 GW in 2019.
Wood pellets are made from compacted sawdust and related industrial wastes from the milling of lumber, manufacture of wood products, and furniture. After the combustion of wood pellets, the emission of harmful gases is very low as compared to other fossil fuels. Demand for wood pellets is considerably high from thermal industries to generate clean energy; power can even be generated by co-firing wood pellets with coal. Thus, huge capital investment is not needed to generate power using wood pellets. These reasons create lucrative opportunity for the global wood pellets market.