What are wood pellets used for?
09.06.2022
What are wood pellets used for?
Wood Pellets are widely used in recent years with many different applications, from heating, cooking, generating industrial energy…..
Wood pellets used in industrial field:
Large-scale industrial use of wood pellets is used to enhance the thermal value of waste during heating and significantly reduce pollutant emissions.
The conversion from energy structure from fossil fuel to using biomass fuel (wood pellets) has been strongly developed. As we can see, worldwide, more and more industrial power plants are being converted into CHP models, in which wood pellets play a big role.

Used in heating systems and hot water supply:
The use of wood pellets in small fireplaces and hot water supply systems is increasingly being used to replace electric or gas fireplaces. Like other heating systems, fireplaces using wood pellets can distribute heat to all areas of the house with a heat pipe system. But, its advantage is high heating efficiency, can control the heat and help you save a lot of money.
Used in cooking:
The food industry, service industries, bakeries, etc. are also considering the use of wood pellets as an alternative fuel. High energy efficiency, environmental friendliness and economic efficiency are the things that make wood pellets the preferred choice.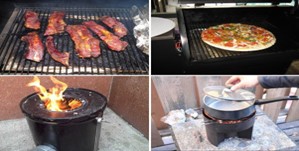 Used for animal bedding:
Besides using wood pellets for heating and generating industrial energy, wood pellets are also used for animal bedding.
For example, many families have used wood pellets to line the cat's nest. Tablets will absorb all the warmth and turn into sawdust. This method not only saves wood pellets, but also cuts waste into the environment.
Same with the barns. Normally, cattle sheds will be lined with straw, waste wood, … but wood pellets are gradually becoming more popular because they have good moisture absorption and 4 times increase in odor removal capacity. Takes up little space – good absorption – smoothness and can be cleaned up easily are the advantages of using wood pellets to line livestock.