Wood Pellets Market Report
24.03.2022
The global wood pellet market is estimated to be USD 10.52 billion in 2022, and it is expected to reach USD 16.75 billion by 2027, at a CAGR of 7.28% during 2022-2027 (mentioned by Mordor Intelligence in their academic website: www.mordorintelligence.com). Due to the COVID-19 pandemic, the market witnessed reduced demand and shortages of raw materials. However, Asia significantly had a low impact due to the already existing oversupply and suppressed consumption. The primary drivers for the market include increasing demand for wood pellets in clean energy generation, especially in the European region. However, the adoption and increasing deployment of alternative renewable energy sources such as solar photovoltaic, wind energy, and geothermal in various parts of the world is likely to hinder the market growth during the forecast period.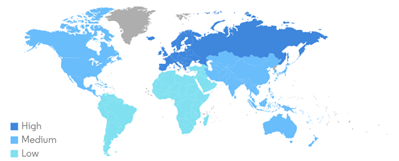 Figure 1: Wood Pellet Market: Growth Rate by Region (Source: Mordor Intelligence)
Along with the development of the Asian market, Vietnam is no exception in capturing this potential wood pellets production market. Specially, up to now, wood pellets and their products have become one of the export products important to Vietnam. In recent years, the amount of wood pellets exports per year reach about 3 million tons, equivalent to USD 350 million in turnover. Korea and Japan are the most important pellets import markets compression of Vietnam, with export volume to 2 markets accounts for over 90% of the total annual export of pellets. This Report provides updates on the situation of wood pellets exports of Vietnam until the end of the first 8 months of 2021 (according to Forest Trend, Oct 2021).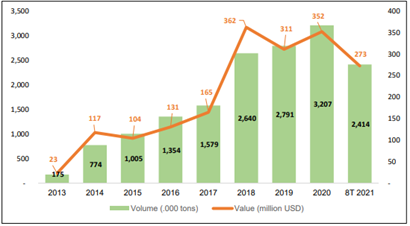 Figure 2: Export turnover of wood pellets of Vietnam (from 2013 to the first 8 months of 2021)
The special thing coming from this industry is the production materials. Many people may find it hard to believe that this high-efficiency and environmentally friendly product is produced by wood waste products. Wood chips, shavings, sawdust, scraps, twigs, etc. are all waste products of the wood industry in Vietnam. They seem to be just waste, but these waste products are expected to bring in from USD 450-500 million in export value when used to produce wood pellets.