Wood pellets – Potential market for Vietnamese businesses
09.06.2022
Wood pellets – Potential market for Vietnamese businesses
The global wood pellet market is forecasted to reach $15.63 billion by 2026. Vietnam is currently the world's second largest supplier of wood pellets. With the existing strengths and increasing demand for this product, Vietnamese businesses are looking for directions to develop in this market.
The market still has a lot of room:
With the current situation of fuel sources such as coal, gasoline, oil … are increasingly exhausted, the need to find alternative materials becomes urgent in any country. In particular, wood pellets are considered as an alternative material with many advantages as raw materials are readily available, abundant and cheap. In particular, with scientific advances in the production of thermally upgraded wood pellets, making it a very promising alternative to traditional coal fuel in energy production.
At the United Nations Climate Change Summit in 2021 (COP26), the majority of countries pledged to cut, even bring greenhouse gas emissions to "zero". To do this, low-carbon energy economic development is a must.
The Asian markets (Japan, Korea) and Europe are currently experiencing high demand for wood pellets in clean energy production. The Asia-Pacific market, which has the largest number of coal-fired power plants in the world, is forecasted to grow rapidly in the near future and is an opportunity for Vietnamese wood pellet manufacturers. The World Bioenergy Association forecasts the global wood pellets market is expected to reach $15.63 billion by 2026, with a compound annual growth rate of 7.28% between 2021-2026.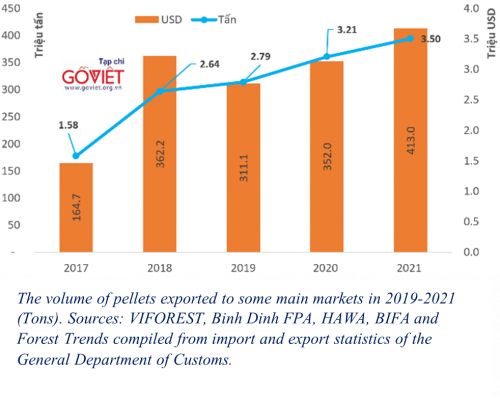 According to the Vietnam Wood and Forest Products Association, pellets are in the group of 5 items with the highest export value of the wood industry. Vietnam is currently the second largest tablet exporter in the world.
During the past seven years, the production, export and value of finished products of wood pellets have been increasing day by day. Specifically, the volume of exported pellets increased by over 18.28 times, from 175 thousand tons in 2013 to about 3.2 million tons in 2020. The export value of tablets increased 15.3 times, from nearly 23 million USD in 2013. , to 351 million USD in 2020.
Japan and South Korea are the two main export markets of Vietnam's tablets, accounting for 99.8% of total export turnover in 2021. The demand is especially high after natural disasters such as earthquakes and tsunamis, to development of bioelectricity.
In 2021, South Korea imported 1.96 million tons of tablets from Vietnam, equivalent to $212.04 million, down 0.9% in volume but up 9.6% in value compared to 2020. Japan imported 1. .53 million tons in 2021, equivalent to USD 200.11 million, up 26.1% in volume and 27% in value compared to 2020.
In Japan alone, pellets are expected to meet 38% of total energy demand by 2030. Some exporters said that the volume of pellets exported to this market could expand 3 times by 2020. 2024 – 2025 compared to today.
Suitable for small and medium businesses:
Wood pellets are considered a perfect alternative to fossil fuels not only because of their low emission advantages, renewable ability but also because of their low cost.
From an economic perspective, wood pellets have a cheap source of raw materials with readily available inputs, not picky. While finished tablets have stable export value, even increase. The price of tablets exported to the Japanese market ranges from 127-139 USD/ton of tablets. In the second main export market, Korea, recorded a significant increase in the last six months of 2021 from 97-134 USD/ton.
Normally, in order to produce wood pellets, production facilities make use of all their "waste products", such as sawdust, wood chips, wood chips, etc., even taking advantage of other industry wastes such as rice husk, straw, bagasse, stalks, seed pods… In this way, businesses can "double" their revenue. Previously, the business mainly only made profits from processing and exporting woodworking products such as furniture and raw wood furniture. It can be said that the opening of the wood pellet market has helped businesses quickly increase the value of their products, and at the same time treat a large part of the waste arising from the production process.
Another advantage of the production of tablets is that the process is simple and does not require high technology. If in the furniture processing industry, a process requires many steps and steps, requiring workers to be meticulous and highly aesthetic, on the contrary, the production of wood pellets is simpler. This wood pellet production process consists of 5 steps of crushing, drying, pressing, cooling and packing, and is mainly operated by machines. Thus, production facilities can save time and labor in the production of wood pellets.
Improve the value of wood pellets:
The wood pellet industry is having a very good stepping stone for future development, but to go further, there are still some points that need to be overcome. According to Dr. To Xuan Phuc, an expert at Forest Trends, this "half-billion dollar" manufacturing and exporting industry has some limitations.
Due to the simple manufacturing process, wood pellets are a product that can be easily processed in small to large establishments. However, this source of raw materials is sometimes not strictly controlled in terms of quality and legality.
In terms of quality, there are many establishments that use mixed materials, creating poor quality products and losing credibility with customers. Therefore, a prerequisite to be able to go far in this potential market is that enterprises must proactively screen more carefully the source of input materials, not using raw materials, impurities, and poor quality.
Another difficulty that businesses are facing is the procedures related to bidding and exporting in some markets. For example, selling goods to a Korean thermal power plant must go through a commercial intermediary, making small and medium-sized enterprises highly dependent on third parties. This also makes the cost of products delivered to customers significantly increase.
This fact requires support to create links through organizations and representative agencies in order to reduce barriers and help businesses access more widely to international markets.
Another factor that makes the export value of pellets not high, or difficult to break into difficult markets such as Europe and Japan, is the lack of sustainable forest management certificates (FSCs). In this regard, the forestry sector has plans to accelerate the issuance of FSC certification, with the goal of reaching 10 million hectares by 2030.
According to the General Department of Forestry, the source of wood materials in Vietnam has been improved quite well through the development of plantation forests, so far 75% of the annual demand for raw materials has been proactive. In recent years, the annual export volume of tablets has reached about 3 million tons, equivalent to 350 million USD in turnover. This number can completely increase if Vietnamese enterprises solve their problems and have appropriate production plans and business strategies.