Joining in this Conference, Mr. Nguyen Duc Hau (Director of Uniexport) in the role of Vice Chairman of the Wood Pellets Association also presented difficulties and problems as well as reported on the achievements that the Wood Pellets industry has achieved in the past year.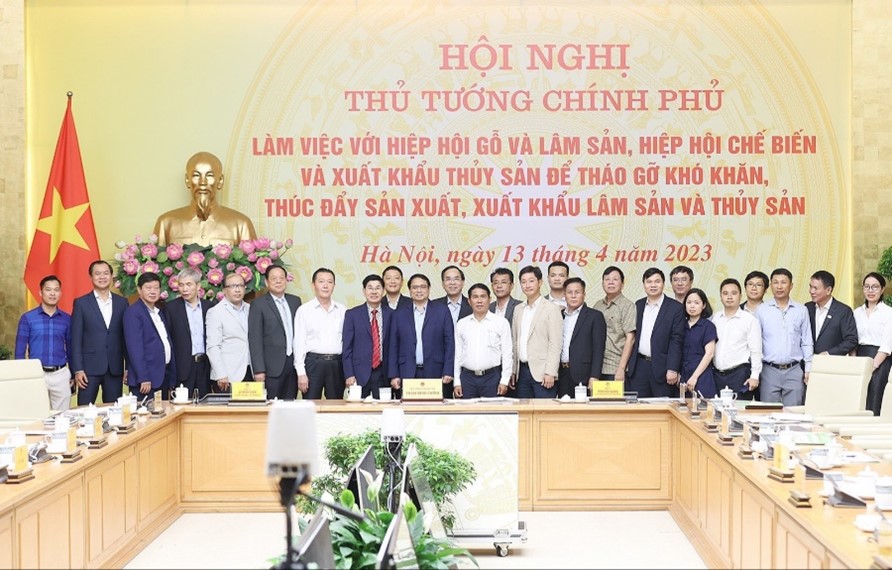 Mr. Nguyen Duc Hau – Chairman of Uniexport cum Vice President of Wood Pellets Association (4th from the right-hand side) with the Prime Minister & Association Members (Photo: Duong Giang/VNA)
Also speaking at the conference, the Prime Minister Pham Minh Chinh emphasized that it is necessary to be calm and steadfast in the goals and basic principles but be flexible in operating and organizing the implementation; identify the situation to overcome difficulties and overcome challenges; find the right solution. This conference was held in continuation of many conferences chaired by the Prime Minister over the past time in order to drastically remove difficulties and obstacles for production and business, support businesses and people to reduce cost pressure. costs, promote production, promote growth, create jobs, people's livelihoods.
Prime Minister Pham Minh Chinh is making an announcement. (Photo: Duong Giang/VNA)
A number of official articles also participated in reporting, specifically as follows:
• https://m.baomoi.com/thu- tuong-chu-tri-hoi-nghi-thuc- day-san-xuat-xuat-khau- lam-thuy- san/c/45542289.epi
• https://baochinhphu.vn/thu- tuong-chinh-phu-chu-tri- hoi-nghi-thao-go-kho-khan- thuc-day-san-xuat-xuat- khau-lam-san-va-thuy-san- 102230414091816844.htm 
• https://vtv.vn/chinh-tri/thu-tuong-chu-tri-hoi-nghi-thao-go-kho-khan-thuc-day-san-xuat-xuat-khau-lam-san-thủy-20230413114507655.htm
• https://laodong.vn/thoi- su/thu-tuong-chu-tri-hoi- nghi-thao-go-kho-khan-cho- xuat-khau-lam-san-thuy- san-1179238.ldo
• https://danviet.vn/thu-tuong- lam-viec-voi-2-hiep-hoi- thao-go-kho-khan-linh-vuc- xuat-khau-lam-san-thuy- san- 20230413104903309.htm